OpsRamp for Partners
Expand and differentiate your solutions while helping your customers modernize their IT operations.
Your Success + Your Customers' Success = Our Success
OpsRamp's partner-first strategy is built to deliver the resources you need to educate and enable your sales, product and delivery teams to shape and introduce differentiated solutions and service offerings to amplify your success and your customers' success.
Enable
Customized solutioning sessions, role-based training and resources will quickly arm your sales, product, and delivery teams for maximum effectiveness.
Differentiate
Comprehensive capabilities of the OpsRamp platform + your specialized services deliver increased value to your customers and your bottom line.
Amplify
Supercharge your promotion and sales efforts with a complete library of customizable co-marketing and sales outreach campaign resources.
In The Business of Driving Efficiency & Effectiveness
OpsRamp's channel team collaboratively partners with each level of your teams to ensure you have the insights, understanding, and resources to execute confidently. Click below to learn more about how OpsRamp supercharges your efforts to efficiently maximize your effectiveness and our shared success.
OEMs & GSIs
OpsRamp partners with some of the most innovative hardware manufacturers and service integrators in the world to help enrich portfolios and deliver unique solutions for your customers. The flexibility and scalability of the OpsRamp platform allows for custom integration and white-labeling within your go-to-market solutions.

OpsRamp's strategic advisory team will partner with you to shape a solution that will help expand and differentiate your portfolio and deliver maximum value to your customers. To help ensure the success of your new solution, our enablement and marketing team will work with your teams to ensure understanding of the solution and help shape the release communications and sustained promotion to drive awareness and interest.
Managed Service Providers
The OpsRamp Service Provider Program enables partners to purchase OpsRamp licenses and services and operate them in a managed services capacity on behalf of your customers – modernizing your operations while modernizing your customers' IT performance. In addition to empowering your team with the knowledge to leverage all the expert capabilities of the OpsRamp platform, our strategic services team will help you shape new go-to-market services and expertise around the OpsRamp platform, for delivering even more value to your customers.
Value Added Resellers
The OpsRamp Reseller Program empowers your sales teams to identify opportunities and refer ideal customer opportunities for co-sell support. Our sellers and technical teams partner with your sellers to assist throughout the customer engagement.

Your team will receive instructor-led and on-demand training on the ITOM market landscape, the roles and challenges of various target personas, and the value that the OpsRamp platform delivers. Our marketing team will partner with yours to establish a co-marketing plan. And your whole team will get access to the sales collateral, industry insights, and the sales and technical training resources within the OpsRamp Partner Resource Center.
OpsRamp Partners
OpsRamp helps the world's leading technology organizations expand their portfolio of offerings, realize new streams of revenue, and deliver exceptional customer experiences. Here are a few of our valued partners.
OEMs
GSIs
MSPs
VARs
Partner With The Leader In Digital Operations
OpsRamp's partner programs are built to support your business by delivering innovative solutions to dramatically enhance your customers' IT performance and operational efficiencies. As a partner-first company, we work collaboratively with our partners to ensure your teams are enabled with the tools and insights they need to maximize effectiveness for your end customers.
Integrations That Make Success Easy
With more than 2,500 out-of-the-box integrations supported, OpsRamp will surely complement and enhance your portfolio of offerings and fit nicely within your customers' tech stack. Support for more than 150 services from the most popular cloud providers – AWS, Google Cloud, Azure, Alibaba – allow unrestricted scaling of your solutions. The expansiveness of the OpsRamp platform allows you to deliver, monitor, and manage the services your customers need, when and where they need them.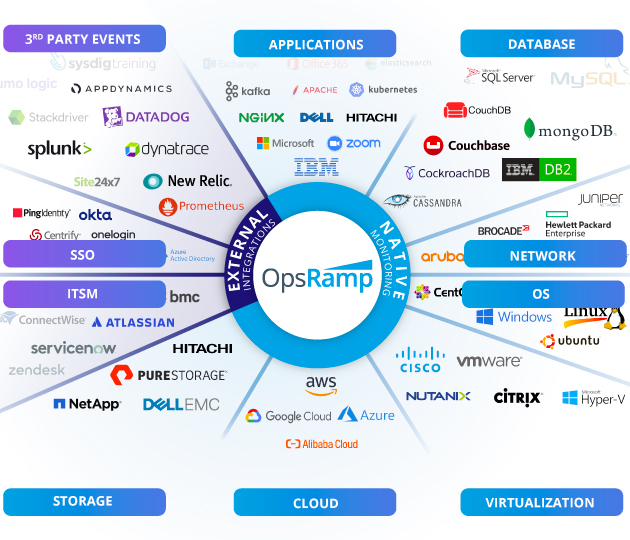 Find OpsRamp in these Partner Marketplaces